Discover more from Above the Fold
Stories about dumplings + the people who make them.
Over 1,000 subscribers
Interview #14: Anna Voloshyna's Varenyky
A preview of the Ukrainian and Eastern European dumplings that you'll find in her forthcoming cookbook, BUDMO!, now available for pre-order!
Growing up in southern Ukraine, Anna Voloshyna was immersed in a wide variety of dumpling styles, from Russian pelmeni and Crimean Tatar chebureki to Ukrainian classics like varenyky and pyrizhky. "Because of the USSR, we had so many different types of dumplings and we all know how to make them," she says. "We love eating them, and they are very under-represented in the world."

Early on, though, she was only allowed to observe: "In my family, the women are very bossy, and they never let me actively participate in dumpling-making," she says. Her grandmother allowed her to be the dumpling arranger, neatly organizing the folded parcels before it was time to boil, and the proximity was enough to spark a love for the process. "It's like a cultural exchange between generations," she says. "That was the time when they would share something cool and interesting, and I would sit there and listen."

In 2011, Anna relocated to Menlo Park in the Bay Area for her husband's job. There, she took dumpling-crafting into her own hands—first through hosting Ukrainian meals for his colleagues, and eventually at her own pop-ups. "The first dumpling pop-up was a mess, because we mislabeled the dumplings and it was horrible," she says. Stress aside, it was a hit. "When people are eating dumplings, they just loosen up so much and they have so much fun," she says. "It just connects them and brings them together instantly."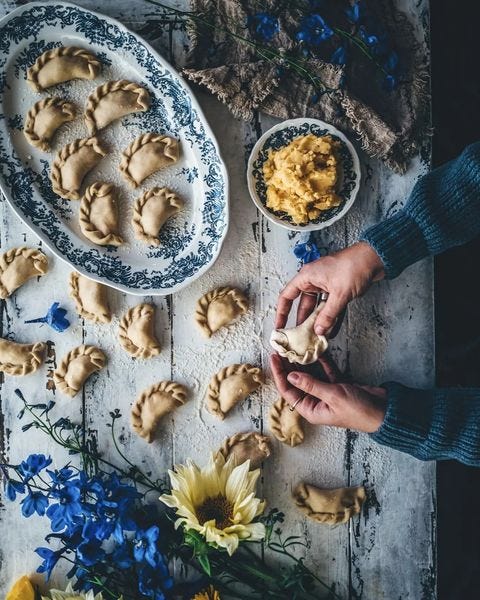 Over the last month, Anna's community has rallied around her to share support and raise funds for relief efforts in light of the devastating attacks to her home country. She's been working around the clock, participating in fundraising cooking classes and bake-a-thons while helping ensure that her family in Ukraine stays safe.
Anna is one of many in the Eastern European and Russian culinary communities lending their voices and cooking skills to #CookForUkraine, a fundraising campaign organized by London-based chefs, cookbook authors, and dumpling pros Olia Hercules and Alissa Timoshkina. To date, #CookForUkraine has raised over £300,000
in support of Unicef UK—in part thanks to some major fundraising contributions from Above the Fold interviewees
Jessica and Trina Quinn of Dacha 46
.
This September, you'll be able to cook your way through Anna's modern interpretations of the Ukrainian dishes of her upbringing thanks to her first cookbook, BUDMO!. Pre-orders are officially live, and scoring one now is a win-win: Anna's publisher, Rizzoli, is donating 10% of all pre-order sales of BUDMO! to World Central Kitchen, which is currently feeding families sheltering in Ukraine as well as refugees in Spain, Hungary, Poland, and more.
"When choosing my recipes, I made a list of everything I loved eating as a child, and everything that would be the best representation of my culture, and of course, dumplings are," Anna says. "I wanted to tell people how special these recipes are, so I decided to dedicate the whole chapter to it."
Anna was gracious enough to share the stories behind the pelmeni, pyrizhky, and more that you'll find in BUDMO! Here are, in her words, all of the crispy, juicy, sour-cream-smothered details.
"The very first dumpling I've ever had was Ukrainian varenyky, which is like a twin brother to Polish pierogi and the most popular type of dumpling in Ukraine. I don't remember the filling exactly, but my subconscious tells me it was sweet cheese. In Ukraine, we have this wonderful farmer's cheese that we call syrnyk—it's soft, tangy, very fresh and made with cow's milk. We add a little bit of sugar and vanilla and we fold it into dumplings, which we boil until plump and then serve with melted butter and sour cream. This is the kind of dumpling we eat all the time in the south of Ukraine. I fell in love with the first bite.
In BUDMO!, I have two styles of varenyky—one sweet, one savory. The sweet one is with dark cherries, which I make a lot, because it's another of my husband's favorites. In the south of Ukraine, we have a lot of sour cherry trees. We pick fresh sour cherries, mix them with sugar and cornstarch or potato starch, put two big cherries inside, close them, and boil them in water seasoned with a little bit of sugar. We serve them with melted butter, maybe some more sugar on top and a lot of sour cream. 
I miss this style here, because we don't have a lot of sour cherries in California. That makes me so sad, because it's not the same flavor, but making them with sweet dark cherries is still delicious.  
There's also a potato varenyky. In my family, when we make this savory one, we usually serve them with onion that's been sautéed until golden. Sometimes, we eat them with sliced pork belly, fried until crispy. Since they're boiled in water, you need to add some fat.
They are already rich, but we like to serve it with, like, the fattiest sour cream you can imagine. My mom has her trusted source of sour cream from a local farmer who sells it in tiny batches. It's so rich and it's so creamy—I can't find anything like it in the United States."
"When I moved away from home to Kyiv to go to university, pelmeni were one of the first meals I ever made myself. I moved into the dorm and met a friend and we decided, 'Okay, we need to make some dumplings,' because we both loved to cook. 
We got a bottle of wine, because we didn't have a rolling pin. We finished the bottle of wine, rolled the dumplings with that empty bottle, filled them with pork and onion, and we boiled them. Just two crazy people from the south of Ukraine, and we made the best meal ever.
In my book, I have a more modern version of pelmeni. I made a different dough with rye flour, which is not very traditional in Russia or Ukraine, but I really love the combination of rye flour and juicy meat. We usually serve them with melted butter and sometimes with sour cream.
Sometimes, we just dip each dumpling into distilled white vinegar to add acidity. I created this acidic topping, which is basically chopped herbs and chopped shallot and a little bit of hot pepper. You put it right on top, and it adds this complexity and balances the richness of the dumplings. I also sprinkle the sour cream with celery salt, which brings out a lot of great flavors from the dumpling. It's a perfect combination."
"One of the most popular Eastern European pastries, pyrizhky are yeasted, fluffy, stuffed with a sweet or savory filling, and usually baked or fried. In my part of the Ukraine—the southern part—we mostly fry them. One of my grandmas made them small, but thick and very fluffy. My other one made them really long and thin.
If you make pyrizhky very thin and long, you usually stuff them with something savory that does not leak, like mashed potato or cheese. If you make them fluffy, they will probably be stuffed with grated apple, mixed with sugar, or maybe cherries, or—my favorite—with cabbage. I'm more into savory pyrizhky. 
For the cookbook, I chose pyrizhky stuffed with apples, because this is my husband's favorite type and that's why I make them the most often. But when my mom comes to visit, she always makes me the wonderful cabbage pyrizhky.
If I eat a sweet style, I will eat one and I'm done. With this cabbage ones, I don't know what it is about them, but I can eat them and I don't feel like I ate anything. It's like a black hole opens in my stomach."
"We have this small diaspora of Tatar people in Crimea, and chebureki was, and probably still is, a huge part of their culture. Other Central Asian countries also have chebureki. Because of the USSR and the borderless countries, those dishes traveled to Ukraine and beyond.
People would make chebureki at home, fry them, wrap in a piece of newspaper and then go outside and sell them. So when I was growing up, I could go home from school and see a babushka selling chebureki and just buy some. My mom started making them at home—they're piping hot and crispy outside and super juicy inside.
In Ukraine, we usually make chebureki with ground pork, grated onion, salt, pepper, a pinch of caraway seeds, and a little garlic, and we add a decent amount of water to the filling to add the juiciness. My mom always adds a shot of vodka to her chebureki dough, which makes them very bubbly.
When my mother comes to visit me here in the United States, we always make a huge batch—we fry a decent amount and then we freeze the rest. When she's in Ukraine, I'm calling her, saying, 'Oh, guess what I'm making? I'm defrosting your chebureki and I will fry them for dinner!' So this is like one of the dishes we make together, like every time she comes. When I was working on the book, she came to visit and we made them together. 
It's not very traditional, but I love serving them with green ajika
and red ajika. It's not something I grew up eating, but it's such a great pairing, I don't know why nobody does it this way. Chebureki and one of the two ajikas—it's a perfect meal for me."
Pre-order a copy of
BUDMO!
right this way
.
---
Above the Fold was created by Leah Mennies. Logo, email header, and dumpling icons by Claudia Mak.
The above interview was condensed and edited. Interview subjects are paid an honorarium for taking the time to share their knowledge and experience.
1
In lieu of an honorarium at Anna's request, Above the Fold made a donation to Cook For Ukraine
2
A Georgian style of hot sauce