Discover more from Above the Fold
Stories about dumplings + the people who make them.
Over 1,000 subscribers
Friday Photo Dump(ling): Some Really Nice Cross-Sections
Salteñas! Siopao! Siu Mai Sausage Rolls!
Above the Fold is taking a summer break. In the meantime, enjoy these semi-regular dispatches from the depths of my social media save folders.
This past week was not a great one. I got some scary personal news; I got some really tough professional news. And so I spent hours making pork bao, specifically these pork-and-veggie ones from Frankie Gaw of Little Fat Boy (his first cookbook is now available for pre-order, btw).
Thanks for reading Above the Fold! Subscribe for free to receive new posts and support my work.
I thought back to my interview with Jess and Trina Quinn from Dacha 46, and how Trina started obsessively making pelmeni early on in the pandemic as a way to channel her anxiety. Frankie's bao recipe encourages you to knead the dough 500 times, or for 10 straight minutes. That, plus a whole lot of chopping, is a very good way to work through bad and unsettling thoughts and feelings. And on the other side of the meditative labor is a second source of comfort: A freshly steamed, pillowy soft bao.
Anyway. In case you could use a distraction or two as well, here are five appetizing images to stare at. This week, they're all of dumplings that have been cut in half, so that you can stare deep into their souls. Or just get hungry.
---
1. Nice and juicy salteñas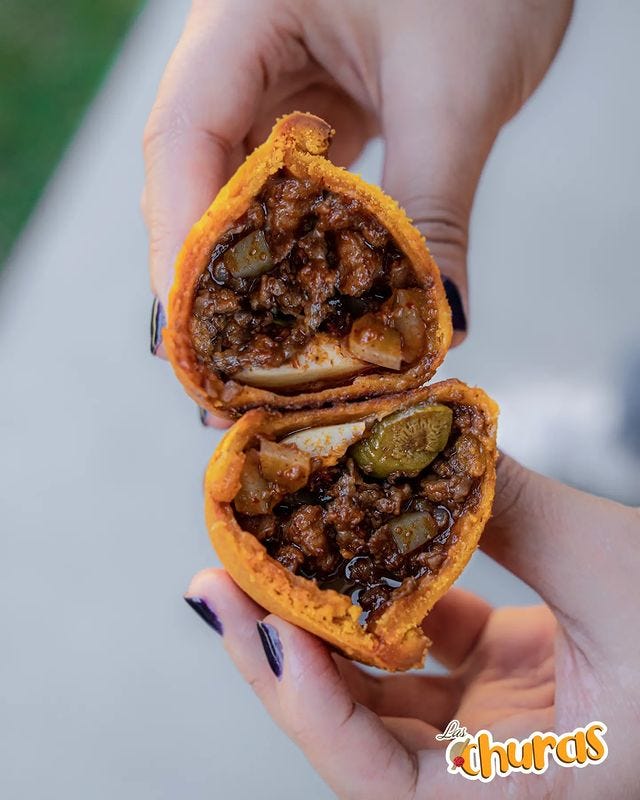 I was telling a friend about Above the Fold over drinks the other night, and he recommended that I check out Bolivian Llama Party in Queens to feast on salteñas, a Bolivian style of baked empanada characterized, in part, by extremely juicy fillings. I plan to go do that ASAP but in the meantime have been tiding myself over with this picture of a different salteña.
2. So many siopao
Langley, British Columbia-based Mr. Siopao De Langley specializes in siopao, a Filipinx variation of Chinese bao. Here are several of their varieties sliced in half.
3. Ham sui gok from Soupbelly
I think I forward posts from Atlanta-based dumpling pop-up Soupbelly to my Atlanta-based friends on a weekly basis. I hope to interview founder Candy Hom someday and also to eat her incredible-looking dumplings. These are ham sui gok, or fried dumplings with a glutinous rice dough and super-savory filling of lap cheung, dehydrated shrimp, pork, daikon, and shiitake mushrooms. You can just see how good the texture is on these.
4. Siu. Mai. Sausage. Rolls.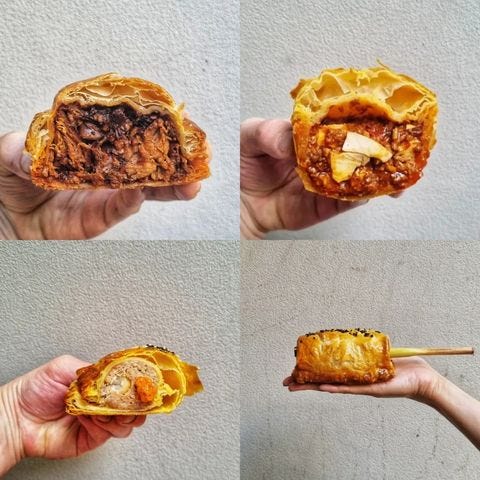 I'm a story repeater (self-awareness is important), so apologies if I've already disclosed that I celebrated my 30th birthday by making 100 pigs in a blanket and sharing them with friends. They're dumpling-tangential, but spiritually the same.
Small-batch bakery Bloods in Sydney, Australia very regularly shares gasp-worthy pastry cross sections. This photo quad in particular features a mapo tofu-stuffed pie, a pork and lemongrass sausage roll (look at the lemongrass!!), a lamb and lao gan ma pie, and, last but very much not least, a sausage roll inspired by the Cantonese open-faced dumpling siu mai. Aka the dumpling-pig in a blanket hybrid that dreams are made of. Genius.
5. Kroppkakor from Arontorps
Kroppkakor are Swedish dumplings with a potato-based dough and bacon-based filling. They're traditionally served alongside lingonberry jam, and they look really freaking delicious. Arontorps is a restaurant based in Öland, Sweden that specializes in kroppkakor, and the dumplings above are theirs.
---
Above the Fold was created by Leah Mennies. Logo + design elements by Claudia Mak.
Thanks for reading Above the Fold! Subscribe for free to receive new posts and support my work.